OUR FOUNDATION
The school was a dream project of Late Mr. K.B. Chettri and his better half Mrs. B.K. Chettri. They started the school as a primary school called Baba Adarsh Nursery School in the year 1983. The sole purpose of this school was to provide quality education to students at the grassroot level belonging to all sections of the society. Especially to those belonging to our rural belt of tea gardens and busty areas. Mr. Chettri was of the firm belief that through education there would be upliftment of our society. It was his endeavor and dedication which led Baba Adarsh Nursery School to become Sai Sundaram School after a long struggle of many years. It was in 1999 when our school got affiliated to the Secondary Section with C.B.S.E, Delhi and was upgraded to Senior Secondary in 2013.
Sai Sundaram School is not only providing quality education but it is also integrating Value Education based on the principles of Bhagwan Sri Sathya Sai Baba. It was Mrs. Chettri who instilled the importance of integrating value education into the curriculum and students were encouraged to develop their spiritual side through meditation, yoga, service and prayers. She believed that along with education, character building was equally important to become a good human being. The school has always followed these principles of our founding members since its inception.
The dedication of all stake holders has not gone to waste as our students are constantly excelling in different fields – be it academics, sports or other co-curricular activities and most importantly turning out to be good Human Beings – helpful, kind, loving and accommodative.
MISSION STATEMENT
Our mission is to provide quality education integrated with values of Sathya (Truth), Dharma (Right-Conduct), Shanti (Peace), Prema (Love) and Ahimsa (Non-Violence) thro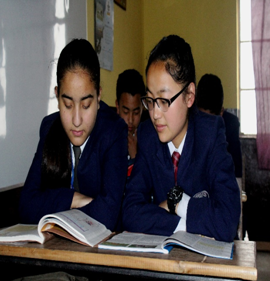 ugh Experiential Learning.
Our mission is to bring out students who are self-dependent, confident and having good moral principles who can cope and fight through any given situation.
To bring out the innate potential hidden within each child through the development of mind, body and soul.
To preserve our Indian culture and values and instill the same in our students.
To focus on character building as Bhagwan says "The End of Education is Character"
OUR VISION
Our vision is t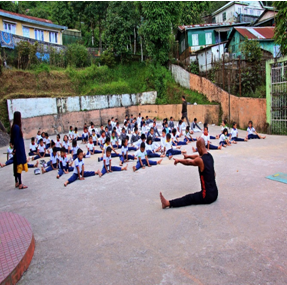 o continuously strive towards Academic Excellence, Environmental Excellence and Human Excellence and become an institution which will be a beacon for all in producing future generations of inspired Human Beings.